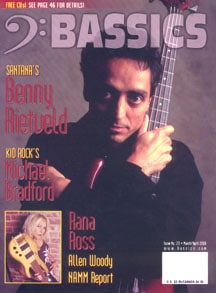 This was my first interview for Bassics, and the SANTANA CD "Supernatural" was #1 pretty much all over the world when this interview was done. Benny's one of my favorite players and he's had a very interesting career, including stints with MILES DAVIS and SHEILA E, among others. Comments about this interview can be sent to me at: dave@daveonbass.com
—
I wish I could say that I've known about Benny Rietveld for years and have followed him throughout his career, but the fact is that the first time I heard his playing was when I purchased the Santana CD "Supernatural" (1999 – ARISTA). I took it out of the shrink wrap and threw it in my CD player for the 30-minute drive home without taking a look at who played bass on the album. As usual I began listening to see if the album had a GROOVE. After about one minute I began thinking "This bass player kicks ass! I wonder who he is?". I couldn't look at the sleeve and navigate through the streets of Milwaukee at the same time, so by the time "SMOOTH" was winding down and I was pulling into my driveway I was obsessed with finding out who the bassist was – the playing was SO on, the grooves SO infectuous, and the players PASSION encompassed every note he played. I pulled out the CD jacket and found out that while there were different drummers on every song I had heard, the one constant was the bassist: BENNY RIETVELD.
It had been a long time since a bassist's playing hit me the way Benny's did. I decided to contact him just to let him know how much I enjoyed his playing on the album. I never expected to hear back from him at all, much less to get the opportunity to interview him for BASSICS. But he did get back to me, and in the course of events leading from that time to this interview what I've found is that Benny has had a very interesting career and that he is a very open, humble, caring person with a great sense of humor. I think you can see all those traits in the following interview. It has truly been a pleasure getting to know him – Benny really is one of those players that you LIKE to see succeed. The following is our interview, you can also visit Benny's web site for further information at: www.bennyrietveld.com
When and where were you born?
I was born in 1959 in The Netherlands, sometimes known as Holland.
Please describe your early musical history and what led you to eventually wind up playing bass. What were your practice habits like when you first started playing?
Well, I started on piano when I was six, and started fooling around with guitar and drums when I was around ten. I was kind of fooling around with bass, too at the time. I remember I was trying to play the bass line from "Lovely Rita Meter Maid" because I liked all those jumps and stuff, and my cousin Fred noticed what I was doing and said, "You know, you can use all four strings!". It was a mini-revelation…
When I first started playing bass for real, around 12 years old, I never really practiced except to learn the songs we were doing in our little garage rock band. And I would go home every day after school and play to all my favorite albums. So I guess it's a sort of practice. Right?
Are you able to find any time to practice now? What types of things do you work on?
I don't really practice now, either. I mean I should, but there's lots to do these days… I try to practice grooves and feels, but that gets awfully boring by yourself. You usually have to do that while playing with other people.
I know you lived in Hawaii for quite a while, what do you see as the benefits and/or limitations of being a musician there?
Well, a huge benefit is that you're living in one of the most beautiful places on Earth! There is quite a local music scene, and there are audiences (albeit small ones) for a wide variety of music – Hawaiian, rock, hard core, trip-hop, jazz, techno, whatever. The bummer is that it's a very small place so sometimes the numbers can't sustain certain types of music on any kind of larger scale. I also think there's too much emphasis on dinosaur economic models like tourism and construction, so there's little money left for any kind of real culture, musical or otherwise. And the fact that it's one of the most geographically isolated places in the world means that you don't get as many outside influences as you would being connected to a large land mass, and therefore you don't get as many chances to learn things directly from other musicians, and so there are less chances for direct inspiration. To me, music is definitely like a virus, you gotta have real contact for it to rub off on you. I mean, I learned what a "tumbao" was a long time ago – what the correct notes would be, what rhythmic values I would play, etc. But I never even began to get the actual "feel" of one until I got to play with some real masters of the idiom like Armando Peraza.
What bass players and music were you listening to when you first got into playing? Who or what were you main influences and/or recordings at that time?
The first bass line I ever played was from "The Ballad Of John And Yoko". I was actually playing it on my little plastic Sears guitar, and my cousin (again) said, "Hey, you know what? You're actually playing the bass line, dude."
I was listening to a lot of Beatles, and Sly Stone, but ironically, I was listening to all of the music, not so much obsessing on the bass player, you know? When I got into real bass geek-dom (when one first becomes aware of and starts obsessing over THE BASS PLAYER), my first big influence was Chris Squire. Then I was heavy into prog-rock as well as "regular" rock. I was a big-time Yes fan (and still am), as well as listening to Uriah Heep and even Black Oak Arkansas. I was also listening to radio, but also playing old-style tea dances where you had to play old swing and rhumbas and fox-trots.
What are some of your favorite players and/or recordings currently?
Rage Against The Machine, Fiona Apple, Zap Mama and Victor Bailey are some current things that I like. Björk is always high on my list, as well as Prodigy, Massive Attack, & Portishead and the Henry Rollins Band "Come In And Burn" album with Melvin Gibbs.
While still in Hawaii who did you perform with and what recordings were done (if any) before moving to the mainland?
Apart from the usual plethora of garage and dance bands, I played with a great jazz saxophonist named Gabe Baltazar, who was a stalwart of the Stan Kenton Orchestra from quite awhile in the early Sixties. We played 5 or 6 nights a week for years, and I got a great education in the jazz classic standards idiom. We did one recording on his own label.
You moved to San Francisco in 1983 and eventually wound up being hired by Sheila E in 1984. Please describe the events leading up to landing that gig.
I was playing with Ray Obiedo at a club called Earl's Solano Club. Sheila came and sat in on the drums, and it was fantastic, she's such a terrific drummer. Anyway, she told me later that she had just recorded an album, "The Glamorous Life", and asked if I wanted to tour with her. Of course I thought it would be great fun and said yes. But I was so sheltered, I had no idea it was going to be her up front singing and playing timbales instead of drums, and that it was a total pop thing. Turned out to be a great thing, since I got to learn so much, especially since Prince was involved.
What was it like performing and recording with Sheila E? How did the gig finally end?
It was a great rush, but it was hard work, since it was a real tight show. There were lots of dance steps as well, which I had a hard time with. I didn't get to record a lot, since all the tracks were done mostly by Prince. I guess he felt I didn't play well enough. Or maybe it was my horrible dancing, I don't know… Anyway the gig finally ended when I had had enough of the crazy pop music circus, and I just quit in 1986.
From Sheila E to Miles Davis (with whom you joined in 1988), PLEASE describe that series of events!
Well, after Sheila, I joined Bonnie Hayes and her band. She's a singer/songwriter from the Bay Area who has written lots of hits for people like Bonnie Raitt. Anyway, she's really talented and we had a great time. We recorded one album for Chrysalis, but I guess the company had lots of problems, because in my opinion, they mishandled a really good album. It didn't really go anywhere, and lives and careers languished as a result of the company's ineptitude. Then one day, I get a call from Prince's road manager at the time, Alan Leeds. He says, "Hey, you wanna play with Miles Davis?". It being a rather surreal moment, I just said well, yeah, of course! So I had to send a tape and a picture to Miles' road manager, Gordon Meltzer. He called back a couple of days later and said I got the gig, then he said, "Here, Miles wants to talk to you…". At that point, I was kind of in a daze, and here's Miles on the phone, playing some music that he had put together… "Can you hear this?" "Uh, yeah…" and then 5 really long minutes of almost unintelligible noise, since it had been recorded at home by himself on a cheesy 4-track, and over a crappy phone line. Hilarious.
You spent two years with Miles Davis, can you describe what that period was like for you? How did that come to an end? Did you pretty much go right from Miles' band to Santana or was there a period of time in between?
That period with Miles was one of intense growth, both (don't laugh) spiritually and musically. I now break up my playing ability time line into a couple of different periods, much like a paleontologist. The Pre-Miles Period (in which everything I played pretty much sucked); the Miles Period (in which I started to relearn everything); the Carlos Period (in which I learned to implement the things I had learned in the previous era); and the Post-Carlos Period (in which now some things I play I actually like).
With Miles, the main thing I learned was how one must be present at every note, at every beat. At any given moment whenever you are playing, there can be no past and no future. You cannot be tripping on that mistake you just made, or that girl on the side of the stage, or that turnaround that's coming up where you will execute a perfect forward backflip.
I quit the Miles band when I felt like it was time to start forging my own musical path. I didn't want to stay just for the sake of having a "good gig with a name band". Miles was always nice to me, and I didn't want that to change. I had noticed that he seemed to want people to move on, to 'go out into the world' so to speak, and not hang on out of insecurity. He was a great teacher, a great man, and full of love.
Carlos and I met by chance on a Paolo Rustichelli album, so I pretty much went from Miles to Carlos, although there was a couple of months in between.
You've been with Santana for a while now, please tell me a little about the progression from when you first joined the band to now. Did you actually leave for a while & come back?
I joined in '90 and left in'92. I was pretty burnt from touring, because it was like, from Sheila to Bonnie Hayes, to Miles to Santana, and that was seven years straight for me. Now, many people would scoff and say. "Hah, that's nothing!", and they would be right. I mean, I've seen those guys in some of those other touring bands like B.B. King, or Ray Charles, guys that constantly tour. They go about 200 nights a year, and have been doing it for over 20 years! Yikes! ANYWAY… I felt like I needed a break after a mere seven years. But it was good, since I learned a lot about other forms of music-making, about production, multimedia, etc. And then Carlos asked me to join again in late '97, and I felt it was a good time to do it. I feel like my playing is a little better, too, so I guess that's good for everyone concerned.
There are three albums with Santana that feature your playing – did you have a feeling or any inclination at all during the recording process that "SUPERNATURAL" was going to be such a huge success?
I felt like it definitely would sell more than the some of the previous albums. But I had no idea it would get as huge as it has, and no one I knew thought so, either.
Your playing hit me right away on "Supernatural" – After one listen I went right to your web site and found that you've played on quite a few other recordings! Are there some recorded highlights that you'd like to mention for people like myself who have just come upon your playing through the current album with Santana?
I think there's some Miles Live At Montreaux '89 with me on it that I kinda like. But I don't know… I don't really remember most of the sessions. And i don't really know what you mean by highlights… you mean stuff I still can live with? If that's it, then I can live with Zucchero's last album, Marc Russo's album "The Window"… uh, let's see… I know some people liked the David Garibaldi video "Tower Of Groove", although I remember it as being a nightmarish recording session. I'm not some stellar soloist type of guy, so I can't really point anybody in any direction for some fantastic solo or something. Sorry.
That's been my life, though… some strange underground character, on the periphery of normal, polite society.
Do you still write and perform your own music much, or has that been pushed back a little since the success of "Supernatural"? Are you still working on a solo CD? When can we expect to see that?
Yes, the success of "Supernatural" has definitely made it a little more of a logistical challenge to finish my own CD. But I'm still progressing on it, so somehow something's getting done! I hope to have it hit the streets by March 2000.
What type of material do you write? Do you write on bass or use other instruments? Are you proficient on any other instruments?
I write mostly instrumental stuff, since I'm lousy with lyrics. I write on bass, keyboards, guitar, and sometimes just with singing a little melody line into a cheesy cassette recorder. And a long hot shower usually brings out new ideas, as well as a little sleep deprivation.
Are you still doing anything with The Outtakes? Tell me a little about that project.
The fact that everyone in that group lives about 2000 miles away from everybody else makes it a bit challenging to hook up. And everybody's so busy, too, these days.
The Outtakes are a bunch of really talented buddies of mine, mostly from high school. We just decided we should record something since we enjoyed playing together so much, and had played together lots in high school. It's a mostly jazz-oriented thing, with some Latin and Hawaiian influences. The one CD we did has Joanne Brackeen and Karl Perazzo playing on some tunes as well, and we even have a bona fide ukulele legend, Lyle Ritz, on one cut! Those of you out there who are true bass historians will recognize that name as being part of the infamous "Wrecking Crew", along with drummer Hal Blaine. They were a legendary (and prolific) pop recording rhythm section in the 60's and early 70's.
We hope to find some time when we can all be in Hawaii at the same time again soon. If we can get more playing under our belt, then maybe we can think about a second CD.
I see you're also involved with a production company (Yeah Man Productions) – is production something you've done a lot of? Would you like to do more?
Well, I got into production when I left Santana the first time, in '92, so I've only done it for a couple of years. My wife Devon has been a recording engineer for 17 years. She's worked with Santana, The Doobie Brothers, Zucchero and lots of others (I actually met her recording the song "Full Moon" with Carlos on Paolo Rustichelli's "Capri" album). At that time I was thinking about ways that I wanted to grow as a musical being. We thought it would be fun to combine my penchant for composing and arranging, plus my fascination with computer technology, with her engineering talents and experience in record-making. We started out like most outfits, just doing things for experience and money, and it has been really fun and I learned a lot. Now we're on the lookout for an artist or two who we feel has something really valuable to bring to the world.
Let's talk GEAR! First off, tell me a little bit about your basses – what do you own, which ones are your favorites and why?
What I've been using currently on the road is an Ibanez BTB 4 and 5-string, as well as an Azola Baby Bass. At home I also have an MTD 535, 2 Tune Bass Maniac Deluxes (fretted and fretless), a '76 Fender Precision, a Tune Wood Bass, a Guild Acoustic, and a Tune Gap 6-string.
It's hard to talk about favorites, since they all have such unique sounds. In the studio, I've ended up using all of them. The Ibanez BTB has been great on the road, but I haven't had a chance to try it in the studio yet.
Please tell me about the amplification and effects units you use.
I just started using Eden amps… wow, they sure understand bass! I love how I don't have to really work to try and dial in a sound. I've been using the WT-800, but I may switch to the Navigator. I think it'll be a little more flexible in terms of routing and using different basses of quite disparate character.
In my rack I use a Digitech TSR-24, and on the floor I have a Digitech RP-3 as well as a Boss Digital Delay, a Boss Filter, one of those EBS Octave pedals (which has the annoying habit of cutting the sound out momentarily when you switch the effect in), and a Boomerang looping device.
My favorite direct box in the studio nowadays is an Avalon U5. It's terrific, it's another one of those boxes I don't have to mess with a lot to get a good sound.
Is there any gear you don't currently use that interest you? If you could have three more pieces of gear not currently in your arsenal, what would they be?
An Oberheim Echoplex… those suckers are really hard to find! I don't really know who's in charge now – Oberheim, or Gibson, or who knows? – but they should stop screwing around and start making them again.
I also want to get a Korg Triton Workstation (I luv synth bass), an Eventide H-3000, and, uh… I don't know what else, really. There's a lot of toys out there that I haven't tried that might be hecka fun. Maybe a cappuccino machine…
Describe to me what music means to you – how you view it & what music's role in your life is.
Music is a very important gift, about the closest thing we have in this world to real magic. Music is a powerful tool for change, and an important weapon against the forces of evil. And I'm not being facetious, either. When I go out and play, it's to do either one of or a combination of three things: To move people physically, emotionally and/or spiritually; to tell a story or take people on a journey; or to use every note as rockets of light against the darkness that seems at times to be waiting to envelope us all. Yeah, it sounds weird, but I'm deadly serious.
Got any final words for the thousands of bassists out there plugging away trying to learn how to play & succeed in the music business?
One thing I have said to beginning students in the past, is that if you are looking for lots of ego gratification, switch instruments now! Bass is firstly about structural integrity, and supporting everything else while propelling things forward at the same time. As such, you usually go unnoticed… until you're not doing your job. Then the girls stop dancing, and everybody starts feeling a little uneasy. So sometimes it's a thankless job, much like a screenwriter or a soundtrack composer. But if you're okay with not getting a whole lot of ego strokes, you'll be just fine.
Succeeding seems to be about believing in yourself, but always being open to change and growth. And for crying out loud, be nice! It's hard enough for all of us to get along in this world, so why make it that much harder, right?